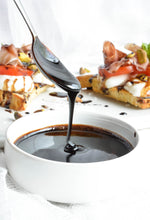 Balsamic glaze is a thick consistency like liquid made from the combination of balsamic vinegar and sweetener such as honey, brown sugar or maple syrup that has been boiled down. Balsamic glaze has various benefits and uses. Balsamic glaze is added to lots of dishes and it does not need to be cooked and can be used as it is. You can add to your already cooked dishes for an amazing combination. You can add balsamic glaze to grilled meats, fish such as tuna and swordfish or salads. You can add balsamic glaze in pasta, vegetables and rosetta and you can also add them in desserts such as ice cream or fruits like strawberries to bring out their flavour.
Lower Cholesterol:
One of the most popular benefits of balsamic glaze is that it can be used to lower your cholesterol. Anyone suffering from high cholesterol, can use balsamic glaze to maintain their cholesterol or lower their cholesterol.
Healthy Digestive System:
Acetic acid, which comprises probiotic bacteria strains, is the principal active ingredient in balsamic glaze. These probiotics aren't just good for preserving food, they can also help with digestion and intestinal health.
Weight Reducing:
Adding balsamic glaze to your diet can help you reduce weight. The balsamic glaze has anti-obesity characteristics that help in losing weight. Substituting balsamic glaze to other flavouring agents can help you lose weight, unlike butter or mayonnaise that contains fats.
Improving Blood Circulation:
Balsamic vinegar is a fruit product because it is made from grapes. Grapes have been discovered to inhibit blood platelets from clumping, which may help to prevent heart disease.
Reduces Hypertension:
The benefits of balsamic glaze for your cardiovascular system also extend to lowering blood pressure. You're not only making your food taste great by using 1 to 2 teaspoons of balsamic glaze as a dressing or marinade, you're also improving your heart health.
Improves Skin Health
Antimicrobial substances, acetic acid, and antioxidants are all found in balsamic glaze. These ingredients may aid in the improvement of a person's complexion over time.
If you want to experience the benefits of a good balsamic glaze, check out our collection!
For a Limited Time Offer, Mediterranean Table is offering a gift of both Fig Flavored & Mixed Berry Balsamic Glaze for a $99 or more purchase!