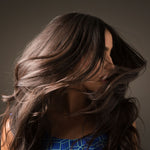 Who doesn't love long, thick and healthy hair? Everyone does. But just like your body, your hair also needs equal amounts of nutrients to be strong and healthy. There are many remedies out there that you can use for your hair but there is one important ingredient that can be found in many remedies and that is olive oil. Olive oil has been shown to have benefits on our skin, hair and overall health.
Olive oil benefits for hair:
Elimination of dandruff:
The dry scalp results in dandruff formation and dandruff flakes. This dandruff can cause your scalp to become itchy, which can be extremely annoying. The best solution for dandruff and itchy scalp is olive oil. Add two tablespoons of olive oil in two teaspoons of lemon juice. Apply on your scalp and leave it for about 20 minutes. Wash it with cold water. Using this remedy twice or three times a week can help reduce dandruff.
Treatment of split ends:
One of the serious hair problems that most women experience is split ends. Mostly in the winter season, when your hair and scalp is dry, your hair is more vulnerable to breakage and split ends. But not to worry, there's the best ingredient to add to your remedy and that is olive oil. Frequent use of olive oil sustains the moisture in your hair and helps it prevent split ends. You just need to put a few drops of olive oil on your palm and massage it on your hair. Regular use of it can repair split ends.
Softens hair:
Brittle and rough hair can also be painful. When you comb through your hair and it gets stuck in your hair it can be very annoying. There is one quick and simple remedy, hot olive oil massage. Apply a generous amount of hot olive oil on your hair and massage it. Leave it overnight and wash it in the morning. Olive oil contains such beneficial nutrients like vitamin A and E that helps smooth your hair. You can add honey to the olive oil to reduce the dryness of hair.
If you want the added benefits of olive oil in your daily haircare routine, visit our olive oil based beauty products!