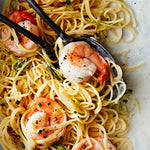 Ingredients:
1 teaspoon Sogno Toscano garlic olive oil.
1 teaspoon Sogno Toscano black truffle olive oil.
1⁄4 teaspoon Sogno Toscano spicy pepper olive oil (optional).
1⁄4 cup Diced onion.
1⁄4 cup 1⁄4 round slice zucchini.
1⁄4 cup Diced red pepper.
1⁄4 cup Diced tomatoes (fresh is best – canned will work).
15 Medium shrimp – peeled and deveined.
1⁄4 cup Marinara sauce.
Angel Hair Pasta – (8 ounces uncooked) 11⁄2 diameter = 4 cups cooked pasta)
Pinch of Salt.
Grated Parmesan cheese to taste.
Directions:
Bring a large pot of water to boil. Add a couple of pinches of salt, and add Angel Hair pasta. Stir frequently and cook for 6 to 8 min. until spaghetti is al dente.
Place garlic, white truffle, and pepper olive oil in a sauté pan over medium heat. Add diced onions and sauté for approximately 4 min.
Add peeled and deveined shrimp to the onions and cook approximately 5 min.
Add zucchini pepper and tomatoes and heat for 2 or 3 min.
Add marinara sauce and heat for an additional 3 to 4 min.
Thoroughly drained pasta in colander.
Placed pasta on the plate, pour the sauce mixture with the shrimp over the pasta and add grated Parmesan cheese to taste.