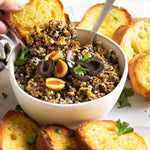 Ingredients:
1 cup chopped ST Mediterranean fantasy (pitted)
2 cloves garlic, chopped
2 tbsp ST capers
1 jar ST sun dried tomatoes, chopped finely
1 Tbsp fresh rosemary, chopped
4 tbsp ST Amalfi Lemon olive oil
Salt and pepper to taste
CROSTINI
1 thin, good quality baguette, sliced about ¼ inch thick
½ cup ST 1923 extra virgin olive oil
Sea salt
Freshly ground black pepper
Instructions
Combine all ingredients in a food processor and process just enough to chop finely
Refrigerate for one hour or more
For the crostini, preheat oven to 400˚F
Place baguette slices directly on wire racks. Bake for 8-10 minutes or until golden, turning over halfway through baking time
Drizzle lightly with evoo. Sprinkle lightly with salt and pepper
Top crostini with tapenade.